There is nothing this good on the market today. It's got huge potential to greatly improve the efficiency of freight forwarders and help them run their business better.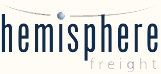 We were looking for ways to reduce the number of incoming phone calls from our customers. FreightChecker has helped us achieve that goal while actually improving our service.

We are always looking for ways to make our business more efficient. FreightChecker does this without compromising our high standards of service.

FreightChecker is a great company. The team are really experienced and know the freight industry from working in it for decades.

This is exactly what we needed to be able to provide the level of service our key customers require. At the same time it's helped free our staff up which is always appreciated.

FreightChecker has helped us maintain a strong relationship with one of our key accounts who use the product every day and it was critical in their selection of forwarding partner.